Paddling Algonquin Park and the Kesagami
Posted by Curtis Nw on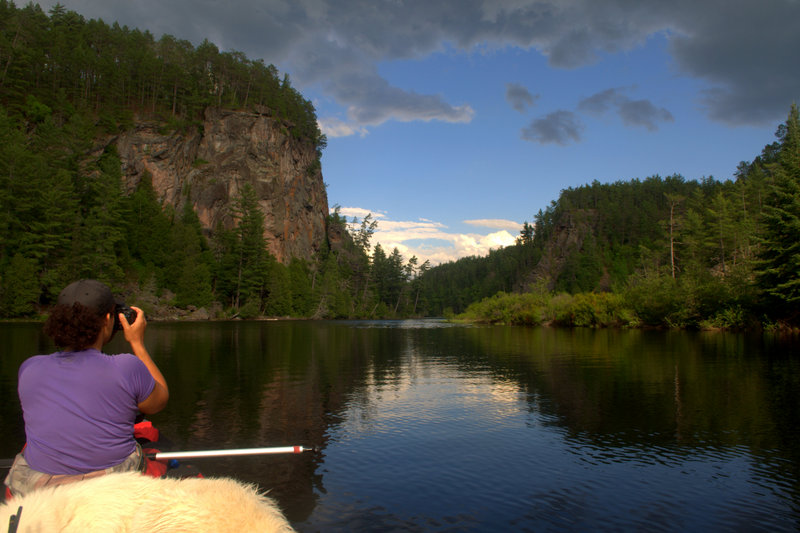 Photo Credit: Jim Baird and Tori Farquharson
Petawawa Gorges: Cliffs near Natch Rapids
We have sold Canoe Spray Decks into everywhere from China to Switzerland, but there is something really nice about seeing them in our own back yard. Jim Baird is an avid paddler, fisherman, and all around outdoors guy. One of his latest trips took him, his canoe, girlfriend Tori, husky dog Buck, and custom North Water Expedition Spray Deck to Algonquin Park and the Petawawa River in Ontario. This trip took them along some of the most beautiful and powerful water in the 7,653.45 km2 provincial park. To read the trip story and to find out more about this beautiful stretch of water click on the link below:
www.parksbloggerontario.com/paddling-in-petawawa-river-algonquin/
Last summer, Jim also had his Spray Deck with him throughout his Kesagami River Solo Adventure. Along the way he shot a series of videos that you can check out here on the Field and Stream Facebook page. In the video below (must be logged into Facebook to see it), Jim gives a good run down on his custom Spray Deck which he installs before a large lake crossing. Spray Deck overview is at 1:33.
For more information on our Spray Decks, check them out on our website or drop us a line!
NORTH WATER
Water Safety for Work and Play
Local: (604) 264-0827
Toll free: 1-800-567-9283
northwater@northwater.com
---
Recent Articles
Categories